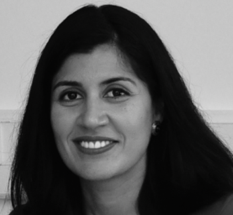 Dr Soujanya Gadde
Consultant Breast Radiologist, Nightingale Centre, MFT
Soujanya completed her radiology training in Manchester before taking up a consultant breast radiologist post at the Nightingale Centre in 2010.
Soujanya has a keen interest in education and training. She is currently a Clinical and Educational Supervisor and is also an ARCP panel member for the North West School of Radiology.  In addition, she regularly teaches on the Manchester Medical School undergraduate breast teaching programme, is an RCR examiner for FRCR 2b and visiting faculty for Sri Ramachandra Medical College, Chennai, India.
Soujanya is the Clinical Governance Lead and runs the Peer Review programme in breast radiology at the Nightingale Centre. She is also the Rostering Lead and manages an extremely complex multidisciplinary rota.
Soujanya is the lead for the radiology working group.