2019 marked the launch of a new credential in breast disease management for breast clinicians. At a time when expanding multi-disciplinary credentialing is a priority in NHS workforce transformation1,2, this is one of the first credentials to go live. Its main aims are:
(1) to standardise and recognise the training for breast clinicians
(2) to increase the breast clinician workforce to support breast screening and symptomatic services.
The credential was developed by the Association of Breast Clinicians (ABC), the Royal College of Radiologists (RCR), the National Breast Imaging Academy (NBIA) and Health Education England (HEE). Representatives from those organisations convened a project board that leads the initiative. HEE provided funding support for a pilot cohort of ten trainees. A recruitment drive to sites across England stimulated over 220 applications.  The first trainees started in August 2019.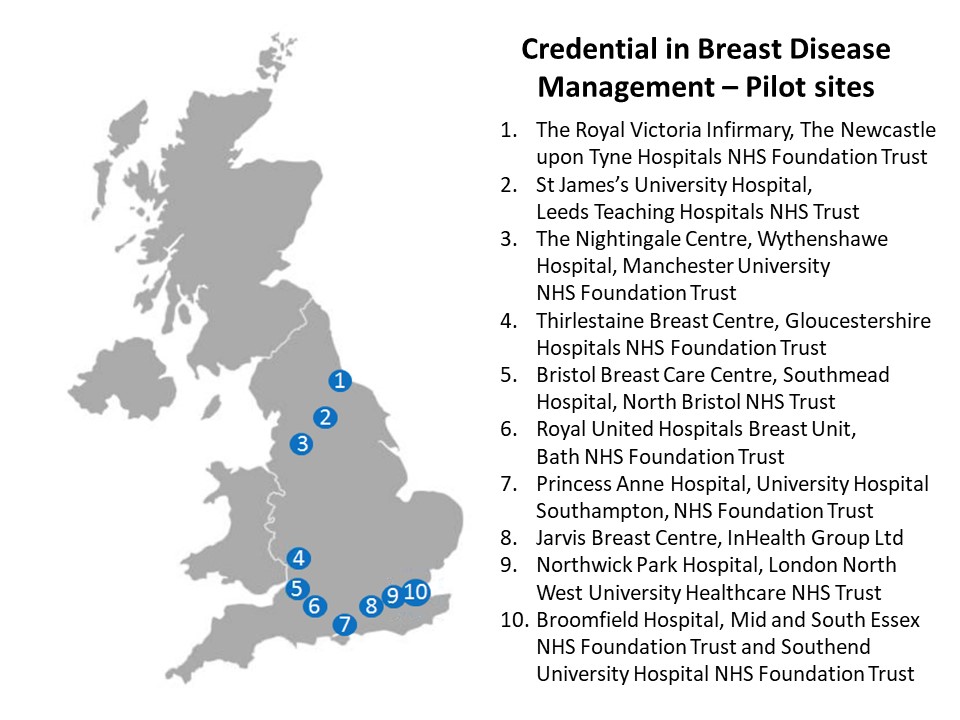 Feedback has been excellent:
"I feel privileged to be part of such a great national training pilot"
Dr Mayada Haydar, Trainee Breast Clinician
"I wasn't even aware breast clinicians existed before hearing about the credential- it has everything I have been looking for in a career and more. The variety within it is fantastic and working across radiology, surgery, genetics and oncology- I really feel I am getting to do the best bits of each of the specialties but also a real canvas to build in any or all of the areas to add impact to the local service. It has both been challenging but also quite exciting to be part of the pilot, for the unit I am in, I am their first breast clinician and it feels like together with my supervisors we are creating something new."
Dr Fatimah Ali, Trainee Breast Clinician
"The programme is a very positive step in trying to reduce workforce issues in breast imaging. It is an evolving, coordinated project which builds on individual and team strengths encouraging mutual learning and personal development. Our department is very grateful to be involved."
Professor Iain Lyburn, Cheltenham-based breast radiologist commenting on his experience of supervising a credential trainee
Training follows a new curriculum, which details what breast clinicians will be competent to do upon completion of the 3 year programme. These competencies span breast imaging, clinical examination and family history risk assessment. As experts in breast disease management, breast clinicians are invaluable team members, especially in breast imaging services facing unprecedented challenges.
"I can speak first hand to the importance of the Breast Clinician Credential in Breast Disease Management…. it will have a massive positive impact on patient care."
Fiona Harrison, Patient Representative
Thanks to the hard work of the trainees, supervisors, host sites and the project board, the initiative has been an inspiring success. In recognition of this, it reached the final of the BMJ Health Awards 2020.
"Being shortlisted for the BMJ Awards is testament to the hard work and dedication of the credential team. They've addressed and implemented a novel solution to a workforce problem that will benefit women now and in the future."
Nikki Barraclough, Executive Director, Prevent Breast Cancer
HEE funding support to expand the programme and recruit a second cohort has been confirmed. Trainees in the second cohort will commence training in summer 2021.
"We are extremely pleased and proud of the progress of the new credential. The scheme has the potential to make a real difference in supporting breast clinics and training the future leaders of breast services and we are extremely grateful to HEE for all its hard work and commitment in securing additional funding for a second cohort.
So far, credential trainees have praised the breadth of the course and supervisors have told us the scheme offers a positive future for their services. We very much look forward to welcoming the credential class of 2021 later this year and would encourage all interested trusts and potential trainees to get in touch."
Dr Stephen Harden,  RCR's radiology training lead
"The funding of a second cohort recognises the early success of the pilot, which was nominated for a BMJ award last year. Breast clinicians come into this branch of medicine from a range of professional backgrounds and we welcome enquiries from interested doctors who may be returning to practice or those wishing to undertake this innovative training pathway.
The credential programme trains each doctor to a high national standard across all elements of the curriculum, they are supported locally and nationally by the collaborative credential team."
Dr Zoe Goldthorpe, ABC President
If you would like to join this exciting initiative, either as a host site or trainee, please contact credentials@rcr.ac.uk or visit https://www.rcr.ac.uk/clinical-radiology/careers-and-recruitment/breast-clinicians-credential-breast-disease-management
1 NHS Long term Plan
2 Interim People Plan

Watch this film about the Breast Clinician Credential,  made by the NBIA in collaboration with the ABC, RCR and HEE. The credential programme was shortlisted for a BMJ Award in 2020, in the Women's Health category.