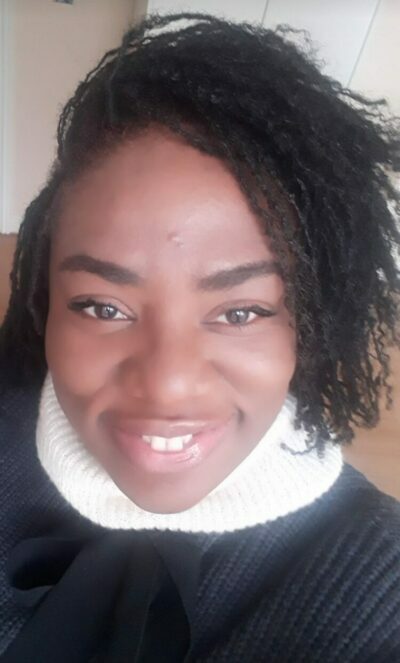 Hello, I am Dr Yvonne Osuagwu and I have just completed my first year as a Trainee Breast Clinician on the Credential in Breast Disease Management. I am one of the second cohort of trainees and started my training in October 2021 at the Luton and Dunstable Hospital in Bedfordshire.
My background has always been in Radiology, having trained as a Radiologist in the prestigious University College Hospital Ibadan Nigeria. As a Radiologist, my special interests were Breast and MSK Radiology.
I moved to the UK in 2019 and in 2020 was working as a specialty doctor with special interest in MSK Radiology at the Queen Alexandra Hospital in Portsmouth on the CESR pathway. I met a breast radiologist during my posting in breast radiology who noted my keen interest in breast imaging. She told me about the breast clinician credential so I applied.
Usually, my day begins with a personal 20-minute Chinese mandarin language lesson. This gets my brain alert and frankly is a great start to the day. I usually take part in an assessment clinic in the morning and a symptomatic clinic in the afternoon. This involves patient consultation, mammography interpretation, ultrasound and sometimes intervention. In a typical work week I will also have one trainee screen read session, a family history clinic and two multidisciplinary team meetings.
The credential has given me the opportunity to train in mammographic screen reading and breast intervention, which I had little experience with in my previous training and work in Radiology. I most enjoy screen reading and I think it is so important for countries to have a Breast Screening programme; its value cannot be overemphasised.  The team at Luton have been extremely supportive and warm. I feel fortunate to be working with such a great team.
My first year of training has been a roller coaster of new learning, new places, new people, and new goals but it has really expanded my vision and changed my perspective in so many ways. With this pathway I changed the direction of my career somewhat, but in many ways it is the same direction I have always wanted to follow just with a different title.
I hope this credential achieves its goal of tackling the workforce crisis in Breast imaging. I highly recommend it for those interested in a fulfilling career in Imaging and patient facing healthcare.