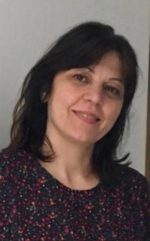 I am Dr Mayada Haydar, Trainee Breast Clinician. I am in my first year on the new Credential in Breast Disease Management.
I finished my post graduate radiology training in Syria in 2001 and subsequently specialised in breast radiology. Civil war started in Syria in 2011. Circumstances deteriorated and in 2013 I moved to the UK with my husband and children. I registered with the GMC but as my Syrian radiology qualifications are not recognised in the UK, I was unable to work as a Radiologist. I accepted a local job in geriatric medicine but continued to look for opportunities to re-join breast services.
In 2019 the new Credential in Breast Disease Management opened for applications and I applied. I started my training at the Nightingale Centre in Manchester (part of Manchester University NHS Foundation Trust) in August 2019, where my training will continue for three years. As a trainee on the Credential Pilot I undergo training in three areas: breast radiology, family history and surgical clinics.
In the radiology component of my training, I work in symptomatic and screening services. I am enhancing my diagnostic skills and learning about new imaging technologies. I particularly enjoy developing new interventional skills which I did not get the chance to do in Syria. I also regularly attend Multidisciplinary Team meetings, which are a great opportunity to follow up patients I have come across in clinic and discuss their management. I have also undergone physics training in preparation for the FRCR physics exam, which is required for successful completion of the Credential.
My training in family history clinics provides me with a new perspective on breast cancer as it deals with patients who are seeking to prevent breast cancer. For patients with a strong family history I complete the patient's risk calculation using risk estimation models and discuss their subsequent management. I also undertake consultations with patients who have a moderate risk of breast cancer in the presence of my supervisor.
I train in surgical clinics twice a week. This is an opportunity for me to develop my history taking and clinical examination skills. Compared to my experiences in Syria, my current training offers me a far broader understanding of breast disease management.
My first year of training has been intense but I have really enjoyed the dynamic nature of the post and the abundance of opportunities that arise from working in one of the busiest breast centres in the UK. This training pathway enables me to balance my professional aspirations with my personal circumstances. The lack of out of hours work also helps with family commitments. I feel privileged to be training and working in such a supportive environment and with a great team.