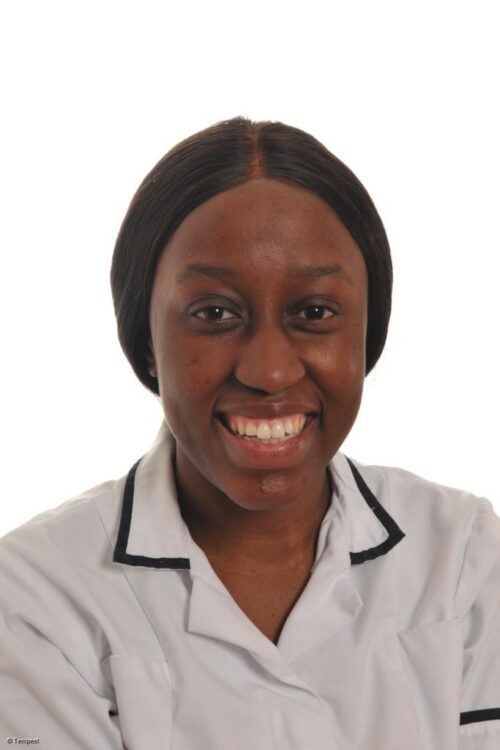 I am Satcha Magorimbo, Trainee Mammographer at University Hospitals Coventry and Warwickshire NHS Trust. I joined the Trust in November 2021 and I am currently waiting to start my Postgraduate Certificate in Mammography in June 2022. Previously, I worked as a General Radiographer for a year before I decided to pursue my career in Breast Imaging. I enjoyed my time as a General Radiographer, which helped me to build my confidence working in imaging and develop a greater understanding of my role. By the end of my first year in General X-ray, I felt it was time to gain new knowledge and experience so I embarked on my long-term goal of working in Mammography.
My typical day as a trainee in the department involves tasks such as: undertaking quality control tests on the mammography equipment; performing mammograms on women under supervision; chaperoning clinicians in assessment and symptomatic clinics; shadowing Mammographers; helping set up for sterile procedures; reassuring patients during invasive procedures; providing patient aftercare; ensuring the environment is safe and clean, and checking samples to go to the lab. It is also my duty to maintain COVID restrictions introduced in my department during the pandemic to safeguard patients and my colleagues. The department works very closely with a multi-disciplinary team consisting of Assistant Practitioners, Mammographers, Advanced Practitioners, Consultant Radiologists, Consultant Radiographers, Breast Care Nurses, Imaging Department Assistants and Administration staff.
I work in a variety of clinics over the course of a week. When working in an Assessment Clinic, my role mainly involves chaperoning because I am not yet qualified to undertake specialist views such as magnification, tomosynthesis and lateral views. I also observe Advanced Practitioners with localisation procedures and assist by ensuring the patient's care needs are met during the procedure. In Follow-up clinics, which require specific training, I shadow Mammographers to see how they position women after they have had breast surgery. This is because the breast will have changed in shape and may have scar tissue. In Family History Clinics I perform 2 view mammograms under supervision. For Symptomatic Clinics I am more hands-on with imaging as only 2 view mammograms tend to be required as part of the One Stop Clinic.
I have encountered a number of challenges, such as coming from a role where I was fully autonomous to now being a trainee again. I constantly remind myself how different Breast Imaging is from General X-ray so I understand that it will take time to learn and become a competent autonomous practitioner. I have found that communication is a major factor in mammography as it involves very sensitive examinations, and the women can often be quite anxious. It is important that I adapt my communication skills and gain patients' confidence so I can provide individualised care to ensure the patients' needs are met. As a Trainee, efficient time management is imperative as appointments are scheduled close together so we need to undertake diagnostic images without compromising the patient's experience.
For the NHS Breast Screening Programme, my department covers 13 areas around Coventry and Warwickshire. The mobile vans visit three areas at a time and I spend time on them to become familiar with a screening setting. I image patients in screening and the mammograms are counter checked by the Mammographer. This has allowed me to gain confidence with breast positioning and interact with the women on a one-to-one basis.
When I am not attending to my clinical duties, I carry out independent learning in relation to Mammography practice. I read online content provided by the National Breast Imaging Academy, which gives me CPD certificates, and Mammography literature to help me prepare for my course. I am very grateful to the team in my department, as they are very helpful and supportive and encourage me to get involved. I can honestly say that I thoroughly enjoy Mammography and believe it is a truly rewarding profession.
My passion is to become a Consultant Radiographer and help in raising awareness of Breast Imaging for Radiography and Radiotherapy students. By doing this, my aim is to help to reduce the national shortage of Mammographers across the UK. I love the career progression that is available once you become a Mammographer and the work life balance the profession provides.