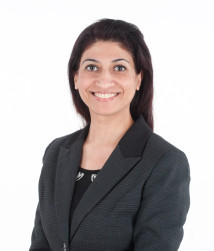 Hello, my name is Shaista Meraj and I am a Breast Radiologist.
I was trained on the West Midlands Radiology Programme, with breast training based at University Hospitals Birmingham, City and Sandwell hospitals and Coventry & Warwickshire Breast Screening Services. A great opportunity to work in busy centres and learn from radiologists, consultant radiographers and advanced practitioners.
Currently I am working at Royal Bolton Hospital NHS Trust, since October 2014. I am committed to providing the highest standard of care to breast patients.
My work involves assessment clinics where ladies are recalled after screening mammograms to have triple-assessment. I do breast examination, analyse mammograms/tomograms and perform ultrasound with breast and axillary interventions. I do one-stop symptomatic clinics where patients are first assessed by a breast surgical team following GP referrals. I then do the necessary imaging and intervention.
Some sessions involve scanning the cancer follow-up patients and post-op clinic referrals. I perform localisation procedures on patients undergoing breast conserving surgery. Performing vacuum assisted biopsies and excisions is a regular part of my job. On an average day, I see over 20 patients. I read screening mammograms on the national breast screening system.
Every week, I attend one diagnostic and one oncoplastic multidisciplinary meeting. There are radiologists, surgeons, pathologists, oncologists, advanced practitioners and breast care nurses in attendance and patient management plans are outlined. Our unit takes part in research trials and I also attend monthly breast management and consultant meetings.
As radiology lead for symptomatic breast, I oversee symptomatic clinics with the programme manager. I organise breast learning & educational meetings. Mentoring trainee mammographers and supervising breast radiology registrars enables me to work closely with the team.
I also do general radiology and report X-rays, CT and MR scans and perform general ultrasounds. Out-of-hours on call work gives a variety to my skills and puts me on the frontline for delivery of emergency care.
I enjoy breast work as it allows me to utilise multiple imaging modalities and perform intervention using advanced technology. Breast radiology is patient focused, producing timely results with high standards. This makes a huge difference to alleviating patient anxiety. We receive excellent patient feedback which is very uplifting.
Breast radiology is an exciting field but has its challenges with rising workload and staff shortages. The future is promising as breast radiology continues to adapt and innovate. There are transformations and new opportunities in breast training pathways, making it an unexplored area with great potential.