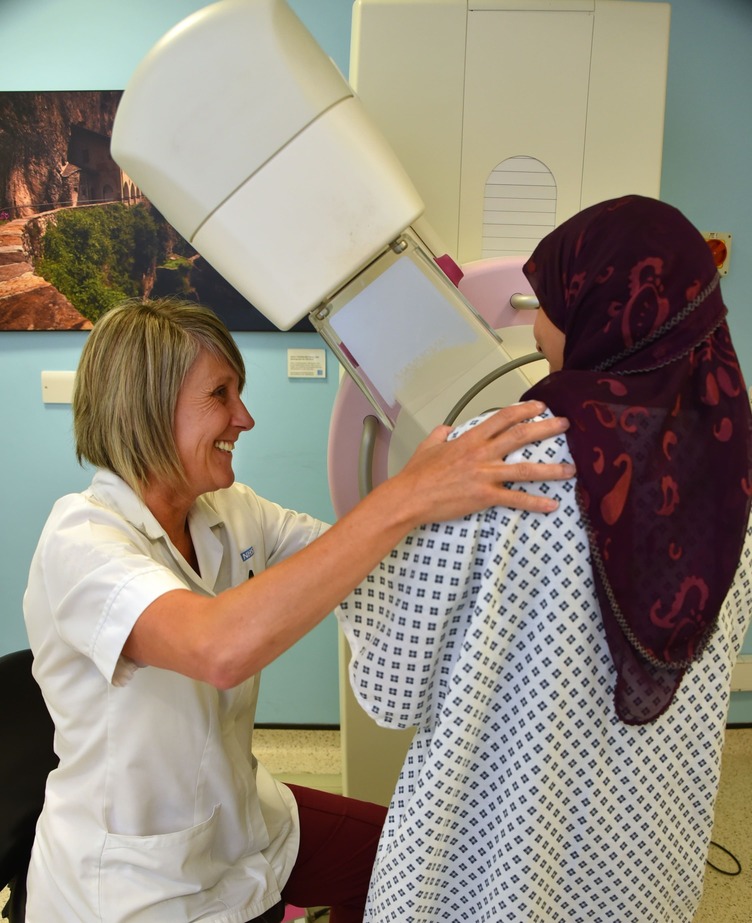 An apprenticeship training programme set up to boost the breast imaging workforce is celebrating the milestone of 50 new mammographers achieving their qualification.
The one-year Level 4 apprenticeship programme was developed by the Mammography Associate Trailblazer group, comprising NHS and academic experts, the Society and College of Radiographers and Public Health England.  Launched in Autumn 2019, training sites in Guildford, London, Manchester and Nottingham now offer the Mammography Associate apprenticeship programme.
The apprenticeship providers are:
Health Education England working in partnership with Manchester University NHS Foundation Trust
Health Education England working in partnership with Nottingham Breast Institute
Jarvis Breast Centre Education and Training Department in partnership with The Royal Free NHS Trust
South Thames College working in partnership with St George's Hospital, London.
Supported by a mentor, the apprentices undertake academic study sessions and on the job training in their host NHS Trusts, leading to a final exam and clinical practice observation and discussion. The apprenticeship programme covers clinical mammography, mammography science, professional practice, quality assurance, communication and team working, and health and safety.
The first 50 apprentices to qualify are now working in the NHS Breast Screening Programme and symptomatic breast units, undertaking routine mammography. Another 70 apprentices are already in training and will join the workforce over the next two years, with further intakes planned.
The apprenticeship is part of a comprehensive programme of training, recruitment and career development aimed at tackling the national workforce shortages in NHS breast imaging and is funded by Health Education England.
Lyndsay Kinnear, Training and Education Lead for Mammography at the Nightingale Centre at Wythenshawe Hospital, part of Manchester University NHS Foundation Trust, chaired the Mammography Associate Trailblazer group.
"This is a really significant development in terms of meeting the increasing demand for breast imaging staff and helping to address the screening backlog which has been created by the pandemic," she said
"It is so rewarding to see the apprentices complete the programme and become valued members of breast imaging teams across the country. In my own breast unit, I see first-hand what an invaluable resource this dedicated group of staff are in the early detection and treatment of breast cancer. I'm very proud to have been part of the trailblazer group and to see the hard work and determination of many dedicated professionals come to fruition."
Added Helen Suddes, Widening Participation and Apprenticeship Lead for Health Education England North East and Yorkshire: "The development of the Mammography Associate Apprenticeship is so important for Breast Screening Services. Being able to deliver such a high quality programme within the North of England has such positive benefits for our patients and all the organisations that we work with. I cannot thank Lyndsay Kinnear and her team at the National Breast Imaging Academy enough for all the help and support they have given this programme; it is a great achievement to see how it has progressed from development through to delivery.
"It is such a reward to now see our Mammography Associate Apprentices successfully completing their training programmes and becoming qualified and valued members of the NHS workforce. They are fulfilling a much needed role within this service and especially at a time when they are most needed."
Jacquie Jenkins, National Breast Screening Programme Manager commented:
"This apprenticeship opportunity is proving to be very popular and is already allowing us to increase the numbers of associate practitioners in the NHS Breast Screening Programme's mammographic workforce. NHS England and Improvement are continuing to work with key stakeholders to develop innovative ways to address the workforce challenges."
For more information about the Mammography Associate Level 4 qualification, please go to https://nationalbreastimagingacademy.org/radiography/mammography-associate-apprenticeship/