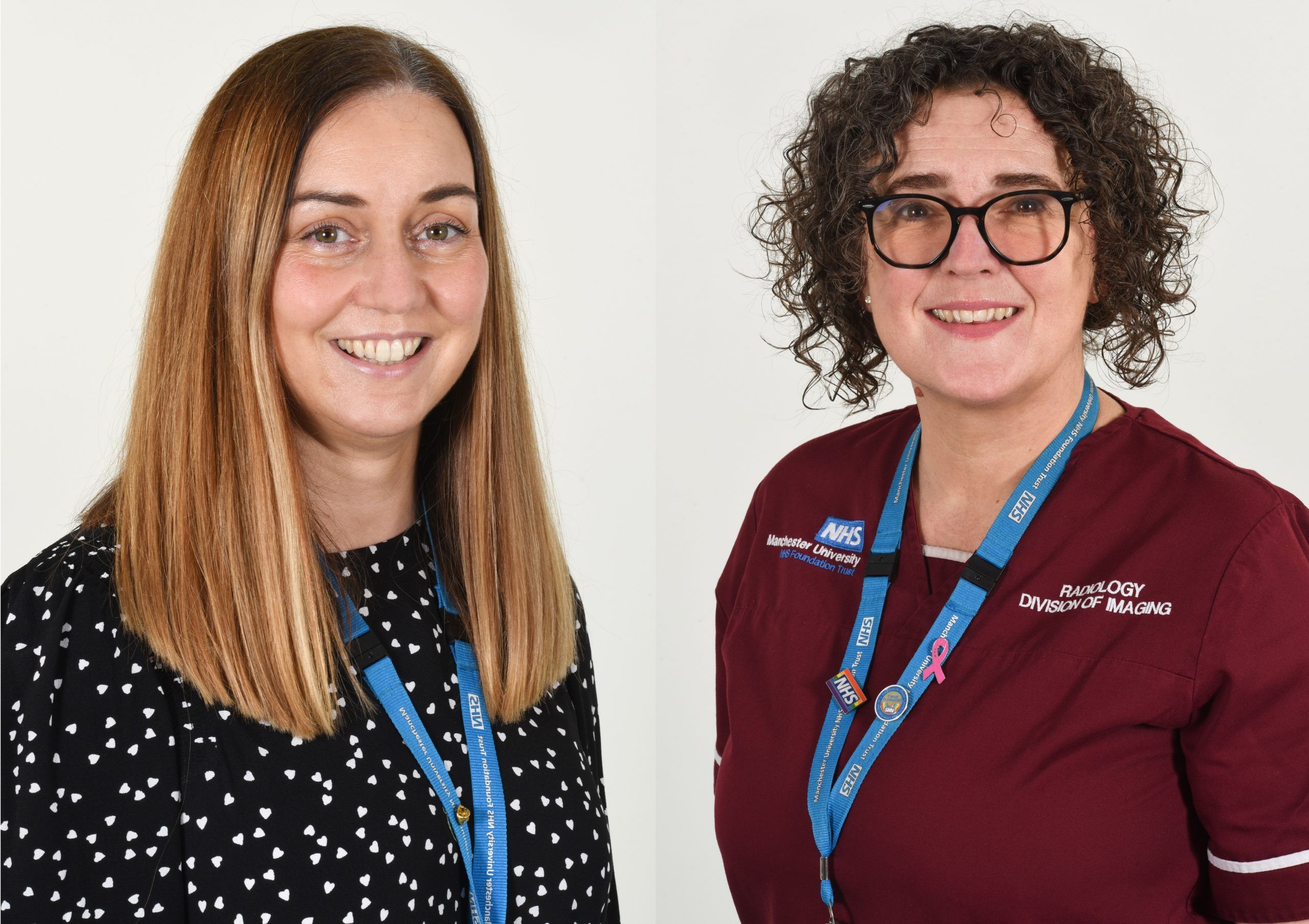 Lyndsay Kinnear and Amanda Bath, radiographers at Manchester University NHS Foundation Trust (MFT), share their experience of developing the mammography assistant practitioner role to meet the needs of the Greater Manchester Breast Screening Programme (GM BSP).
As one of the largest breast screening services in England, GM BSP operates four mobile units and two static screening centres and has around 40 breast screening staff.  Our team covers central Manchester plus Oldham, Glossop, Tameside, Trafford and Salford. They provide a community based service, with women who require follow-up investigations then attending the Nightingale Centre at Wythenshawe Hospital, part of MFT.
When the service began in 1989, it was screening women aged 50 to 64 and operating on a 9am to 5pm Monday to Friday basis. Over the past 30 years, demand for breast screening services has increased significantly, with both the age group screened and the operating hours being extended.
Prior to the Covid pandemic, the GM BSP carried out around 5,000 mammograms each month, screening 45 to 50 women daily at each site. With infection prevention measures reducing this to around 34 women per day, and a backlog created when screening was paused, we are looking at ways to expand the workforce and offer additional screening sessions during evenings and weekends.
Tackling the training challenge
Mammography was one of the first healthcare areas to introduce the four-tier workforce model, as part of the NHS Cancer Plan.  MFT has embraced this strategy developing the skills of assistant practitioners (APs), mammographers, advanced practitioners and radiographers within the GM BSP team.
We have been involved in supporting an innovative solution which is helping to tackle this training gap nationally.
The Mammography Associate (MA) level 4 apprenticeship was developed by the national Trailblazer Group of practitioners, academics and professional bodies.  It has certainly made a major difference to our service since launching in 2019. A bespoke programme, it combines supervised on the job clinical practice with academic study, with apprentices being fully competent to step into MA roles once they are qualified.
A key feature of the apprenticeship is that the costs are covered by the national Apprenticeship Levy, so Trusts can build up their MA workforce without needing additional funding.
Using the apprenticeship route has enabled us to increase our AP workforce from seven to 17, and our core breast screening team now has an almost 50/50 balance of qualified radiographers and APs or Mammography Associate apprentices.
Boosting the AP workforce through the apprenticeship programme has also generated a further benefit.  MFT participated in a PHE pilot programme where two APs carried out mammography screening with remote radiographic supervision from a base unit.  The pilot proved very successful and we are now implementing the governance processes to enable two APs working remotely to become normal practice within the GM BSP
Benefits of the new model
Using the apprenticeship route to develop our MA workforce has delivered significant benefits for the GM BSP. It is a cost-effective way to train staff who are immediately 'job ready' to support the running of an efficient breast screening service.  Apprentice roles are easy to recruit to and provide good opportunities for the local community. Applicants don't need a healthcare background or qualification, just GCSE maths and English (or equivalent), so the apprenticeship widens access to healthcare careers.
The breadth of the apprenticeship programme also means that qualified MAs have the skills and experience to get involved in many other areas of breast cancer diagnosis and treatment in addition to the core screening activity. For example, we rotate our MAs between working in mammography vans or community sites and the Nightingale Centre. During these rotations, they get involved with symptomatic clinics, family history clinics and assisting with biopsies and other procedures.
Training more MAs also frees up qualified radiographers to acquire advanced practice techniques, helping to support the skill mix and address the shortages of more senior staff.
Our Mammography Associate apprentices and MAs are a real asset to the team. They play a very significant part in the breast screening service and having a clear training and development path encourages them to stay with us. The national training standard has made a huge difference to GM BSP and we really value the capable, competent and enthusiastic MAs it is producing.
Lyndsay Kinnear is the Training and Education Lead at the Nightingale Centre at Wythenshawe Hospital and chaired the Trailblazer Group
Amanda Bath is Clinical Manager for Breast Imaging at the Nightingale Centre and for the GM BSP