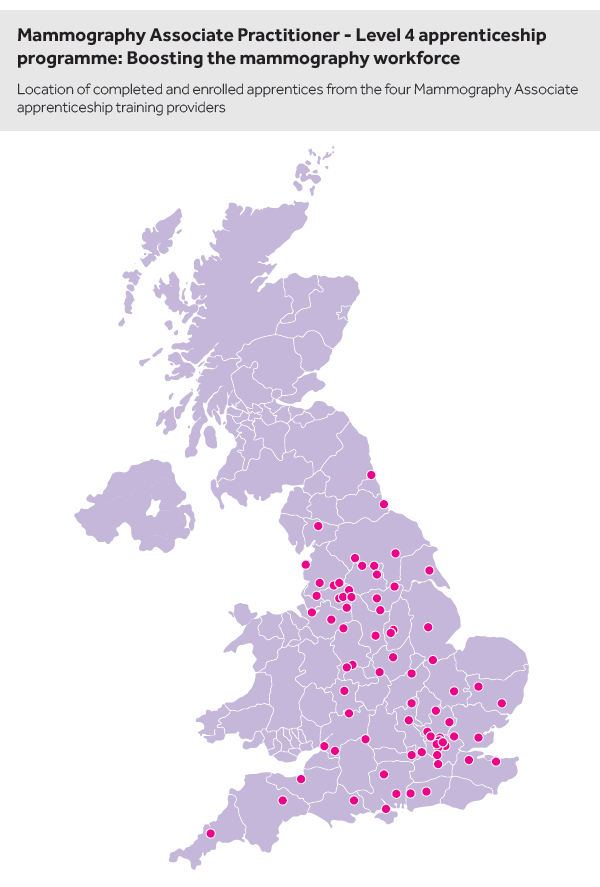 The drive to boost the breast imaging workforce and address national shortages has reached an important milestone with 100 Mammography Associates qualifying through an apprenticeship.
The Mammography Associates are adding much-needed extra clinical capacity to breast units and screening centres across England, improving access to breast screening and diagnostic services.
The level 4 apprenticeship, funded by the Apprenticeship Levy, launched in 2019, and was developed by the Mammography Associate Trailblazer Group, comprising NHS and academic experts, the Society and College of Radiographers and Public Health England, led by Lyndsay Kinnear, National Breast Imaging Academy (NBIA) Radiographic Lead and Chair of the NBIA Radiography Working Group.
Lyndsay Kinnear said:
"Reaching this milestone, and with a further 70 plus Mammography Associates currently in training, shows how employers are embracing the role.
"The apprenticeship provides standardised training and assessment so breast units and screening services can be confident that Mammography Associates completing the apprenticeship have the competencies needed to add real value to their service.
"As the training is funded through the apprenticeship levy, employing mammography associates is a really cost-effective way to train staff who are immediately 'job ready' to support the running of an efficient breast imaging service."
The apprenticeship is currently delivered by three training sites across England: St George's National Breast Education Centre (with South Thames College); National Breast Imaging Academy, Manchester University NHS Foundation Trust (with HEE); and Jarvis Breast Centre (with The Royal Free NHS Foundation Trust).
Supported by a mentor, the apprentices undertake academic study sessions and on the job training in their host NHS trusts, supported by the NBIA's Academy online resources. The apprenticeship programme covers clinical mammography, mammography science, professional practice, quality assurance, communication and team working, and health and safety.
Shahina Ahmed, Lead Mammographer at the Parapet Breast Unit, a dedicated diagnostic and outpatient facility based at the King Edward VII Hospital site in Windsor, said:
"We've had a great experience with our mammography associates. They are a real complement to our radiography workforce and an asset to the department.
"After two years' experience, and if the individual feels confident, two associate practitioners can work on the screening vans independently with radiographer support available from the static site. This takes the pressure off our radiographers and gives them the flexibility to focus on other clinical work."
The Breast Screening Unit at University Hospitals Coventry and Warwickshire NHS Trust has also benefited from a number of apprentices. Joanne Hammond, Deputy Superintendent Radiographer for Breast Screening said:
"We have found the Mammography Associates to be a very loyal workforce. Radiographers are getting harder and harder to recruit so it's useful to have the flexibility to bring in other types of staff and their varied backgrounds brings diversity to our team.
"We've had hairdressers, people from care homes, as well as those in screening admin roles joining the apprenticeship programme – their wide-ranging life experiences and age range brings fresh perspectives and provides new career opportunities for our local community that benefits us and our patients."
Kerry Mills, National Programme Lead for Cancer & Imaging at NHS England, said:
"NHS England is committed to growing and supporting apprenticeship provision both now and in the future.  Developing alternative training routes, like apprenticeships, opens up opportunities for those who may not be in a position to follow a more traditional career path.
"Apprenticeships harness a more diverse group of learners and in the case of the level 4 mammography associate practitioner programme, help address the current breast imaging workforce shortages.
"This programme, and the work of the NBIA, clearly demonstrates how focused collaboration with key stakeholders can provide a skilled workforce that is ready and able to deliver high quality patient care and service provision."
NHS England's national specialist advisor for breast screening, Louise Wilkinson, added: 
"We are delighted that there has been such positive uptake of the Mammography Associate apprenticeship and the milestone of 100 apprentices represents a significant contribution towards boosting the NHS breast screening workforce.
"This apprenticeship scheme supports our ambition to make working in the NHS breast screening programme a career of choice while providing the best experience for people using the service."
Find out more about the Mammography Associate Apprenticeship