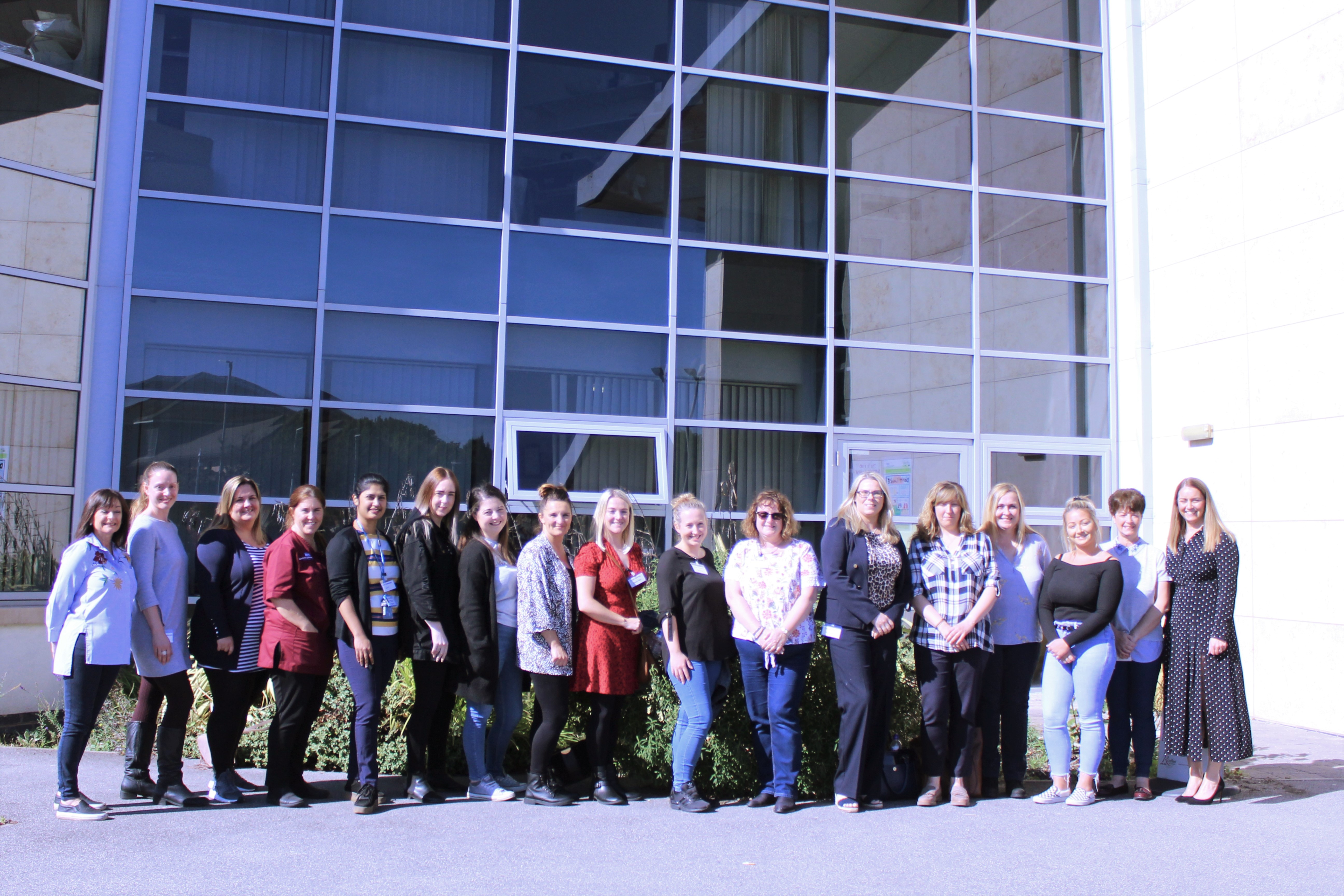 The first three apprentices to complete the new Mammography Associate (MA) qualification at Manchester University NHS Foundation Trust (MFT) have now become fully qualified members of the NHS breast radiology workforce.
Jodie Hampshire from Sheffield Teaching Hospitals NHS Foundation Trust, Janine Riley of East Lancashire Hospitals NHS Trust, Burnley and Eleanor Roscoe from Royal Bolton NHS Foundation Trust all work in the NHS Breast Screening Programme.
They were among nine apprentices who joined the new Manchester MA apprenticeship programme in September 2019, taking up both full and part-time training opportunities. The apprentices all undertook study sessions at the Nightingale Centre at Wythenshawe Hospital, part of MFT, and on the job training in their host NHS Trusts.
The apprenticeship programme is delivered by Health Education England working across the North East.  It covers clinical mammography, mammography science, professional practice, quality assurance, communication and team working, and health and safety.
The National Breast Imaging Academy (NBIA), hosted by MFT, adapted the level 4 apprenticeship programme so that training could continue while complying with the pandemic restrictions.
After undertaking a final exam and being observed practising in a clinical setting, the two apprentices are now fully qualified to undertake routine mammography in the NHS Breast Screening Programme. Their seven colleagues will complete their training and assessments over the next few months.
Jodie Hampshire joined the apprenticeship programme after various roles in health and education, inspired by a family member's experience of breast cancer. "I understand the importance of providing a supportive experience for women undergoing screening or symptomatic follow-up mammography," she explained. "As an adult learner, for me the Mammography Associate apprenticeship programme was an ideal way to get qualified while being employed by my Trust.
"I was able to do my practical training at the Nightingale Centre before the pandemic restrictions. The team there were very supportive, friendly and professional, adapting rapidly and setting up learning sessions on Zoom so we could complete our qualification.  Mammography is going to be my job for life and I'd highly recommend the apprenticeship and the opportunities that accreditation will bring."
Jane Brooks, Radiographer and Eleanor Roscoe's manager, said: "We're so thrilled that Eleanor has both completed her qualification and that she will be able to use her new found knowledge and skills to help support the women that come to us through the screening programme. Eleanor is a valued member of our team and we are very proud of her achievements."
Lyndsay Kinnear, Training & Education Lead for Mammography at MFT, added: "The apprenticeship is part of a comprehensive programme of training, recruitment and career development which is helping to reduce workforce shortages in NHS breast imaging.  Congratulations to our first two new mammographers and they will play a very important role in the early detection and treatment of breast cancer."
Manchester is one of four locations to offer the Mammography Associate apprenticeship, alongside centres in Guildford, London and Nottingham.  For more information about the Mammography Associate Level 4 qualification, please go to https://nationalbreastimagingacademy.org/radiography/mammography-associate-apprenticeship/