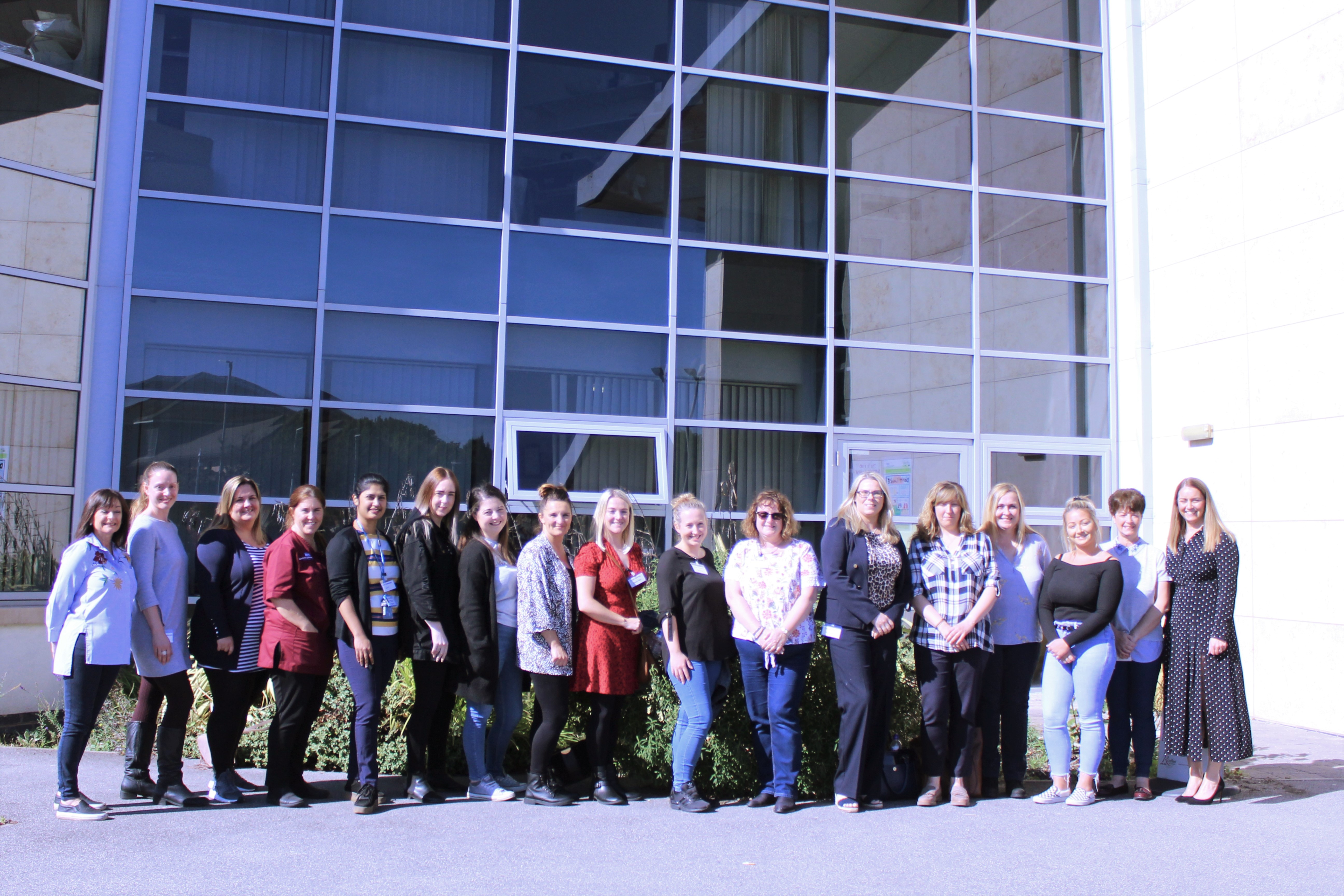 The first group of eight Mammography Associate apprentices to train at Manchester University NHS Foundation Trust (MFT) have now completed their training programme and joined the mammography workforce across the North of England.
In September 2019, the apprentices were the first cohort to join the MFT programme, which is delivered by the National Breast Imaging Academy (NBIA) in partnership with Health Education England (HEE) working across the North East.
Two of the apprentices are based at MFT, while the remaining six come from NHS Trusts in Blackpool, Bolton, East Lancashire, North Tees & Hartlepool, Sheffield and Morecambe Bay.
The one-year Level 4 apprenticeship programme was developed by the Mammography Associate Trailblazer group of NHS and academic experts and is offered at training sites in Guildford, London and Nottingham as well as Manchester. It is part of a comprehensive programme of training, recruitment and career development which aims to boost the NHS breast imaging workforce.
The apprentices carried out their one-to-one clinical training and classroom-based learning, but in March 2020 the NBIA and HEE team had to rapidly adapt the training programme in response to the pandemic. The apprentices' final revision sessions were moved online, and they were able to complete their training through online resources and carefully managed face to face training and assessment.
Lyndsay Kinnear, the Training and Education Lead for Mammography at the Nightingale Centre at Wythenshawe Hospital, part of MFT, said:
"We are so proud of what our apprentices have achieved, particularly when the pandemic meant they had to quickly take on board new ways of learning and working. Congratulations to them all on completing their qualification with flying colours and becoming key members of the breast imaging workforce.
"All the trainers and mentors who supported them also deserve huge thanks for their outstanding commitment and hard work."
Added Helen Suddes, Apprenticeship Lead, HEE North East & Yorkshire:
"The development of the Mammography Associate Apprenticeship is so important for Breast Screening Services. Being able to deliver such a high-quality programme within the North of England has such positive benefits for our patients and all the organisations that we work with.
"I would also like to add my congratulations to all the apprentices for completing their apprenticeships, demonstrating their commitment to the hard work it takes to achieve this. May I also offer my huge thanks to the employer mentors and the departments involved and their commitment and supervision shown to support their apprentices to completion, especially amidst the difficult circumstances created by the Covid-19 pandemic.
"I cannot thank Lyndsay Kinnear and her team at the National Breast Imaging Academy enough for all the help and support they have given to this programme and to the apprentices; it is a great achievement to see how it has progressed from development through to delivery.
"It is such a reward to know our first cohort of Mammography Associate apprentices are now qualified and valued members of the NHS workforce. They are fulfilling a crucial role within this service and especially at a time when they are needed the most."
For more information about the Mammography Associate Level 4 qualification, please go to https://nationalbreastimagingacademy.org/radiography/mammography-associate-apprenticeship/