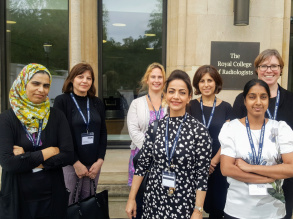 An innovative scheme to train more doctors to become expert breast clinicians has been launched by a collaboration of professional bodies and healthcare educators.
The Credential in Breast Disease Management is a new three-year accreditation programme for post-foundation doctors. It has been created by The Royal College of Radiologists (RCR) and the Association of Breast Clinicians (ABC), with training funding and input from Health Education England (HEE) and additional support and resources from the National Breast Imaging Academy (NBIA).
The new qualification provides a standardised national training route for doctors looking to become holistic breast clinicians, with a curriculum covering breast examination and imaging, disease management and genetic risk factors.
As well as delivering on the need for structured training, its creators hope the qualification will be a vital move in safeguarding the future of hospital breast units. Breast services across the UK are becoming dramatically constrained as a result of increasing patient referrals and a serious shortage of breast radiologists.
The credential scheme has received HEE funding towards 10 training places and is now being piloted in seven English hospital trusts, with long-term ambitions to roll it out across the UK.
On 30th September, the RCR hosted an open day to formally welcome the credential's first seven recruits and showcase the scheme to doctors and health leaders.
ABC President Dr Zoe Goldthorpe said:
"We have long-sought to find a route for standardised, recognised breast clinician training and are thrilled to be launching such a robust and extensive curriculum.
"A quarter of UK breast units are short of at least one breast radiologist, and retirements are set to overtake new appointments over the next decade.
"A recognised pathway for doctors specialising in breast imaging and breast disease management provides an opportunity to increase the number of medically qualified imaging specialists – with additional clinical skills and specific expertise in genetic and family history risk assessment. This will ensure the safe provision and future leadership of screening and symptomatic breast services."
Dr Caroline Rubin, Vice President for Clinical Radiology at the RCR, added:
"After two years in development, we are delighted to see the breast clinician training officially launched, with the support of the ABC, HEE and the NBIA.
"It was an absolute pleasure to meet England's pioneering trainees during our credential welcome day, and to see the scheme generate lots of excitement among the breast clinician community.
"While the pilot has been part-funded by HEE, representatives from the devolved UK nations attended the welcome event and have already expressed interest in adopting the credential to support their local breast imaging services, which are under equal pressure due to staff shortages."
Commenting on the importance of the pilot, Dr Mary Wilson, NBIA Programme Lead and Consultant Breast Radiologist at the Nightingale Centre at Wythenshawe Hospital, which is part of Manchester University NHS Foundation Trust, said:
"The development of this credential, providing a standardised training pathway for Breast Clinicians will, over the next few years, have a very significant impact on the breast imaging workforce. It will increase recruitment to this role by providing a clear career pathway.
"Breast clinicians will, because of their diverse backgrounds, enhance the breast imaging teams within which they work, bringing new skills to a multidisciplinary workforce.
"Huge thanks should be given to the individuals within the ABC, the RCR and the NBIA who have worked so hard to achieve this credential, which is the first credential to be piloted nationally."
Click here to find out more about the breast disease management credential