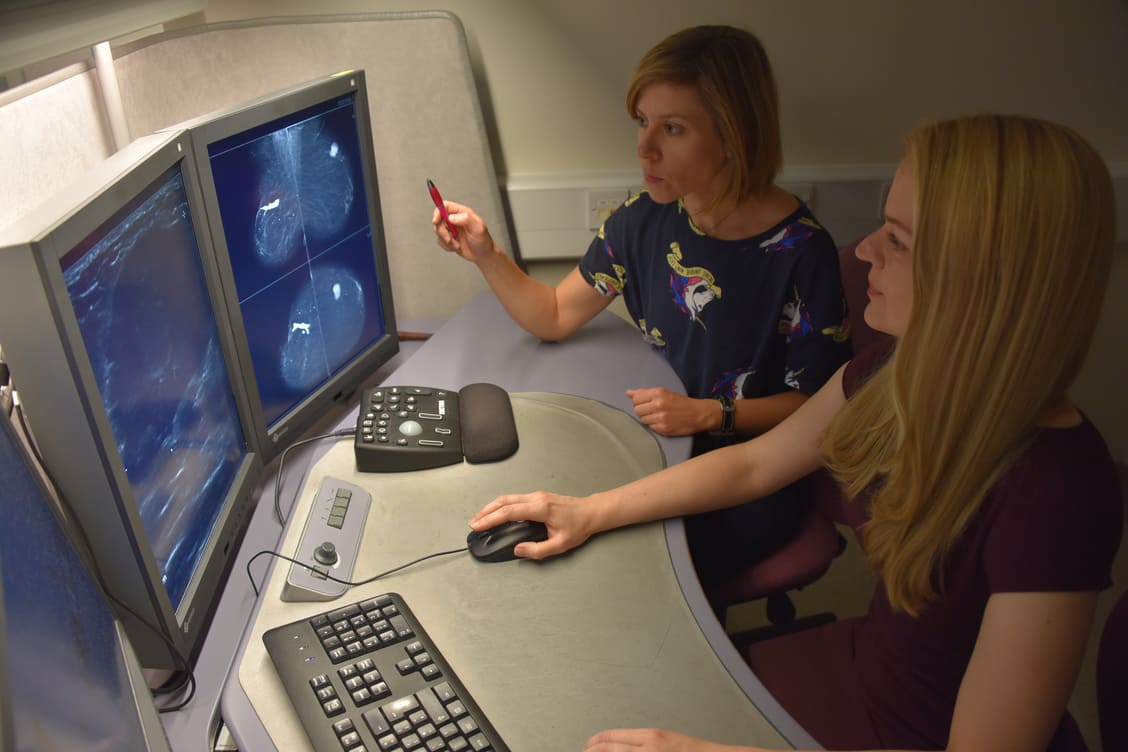 The first phase of a major programme to enhance the quality and numbers of breast imaging specialists and address the work force shortages in the NHS has led to the appointment of six National Breast Imaging Academy (NBIA) Breast Radiology Fellows.
Funded by Health Education England (HEE), the programme will see the new Fellows based at University Hospital of Coventry and Warwickshire NHS Trust; King's College Hospital NHS Foundation Trust; Liverpool University Hospitals NHS Foundation Trust; Manchester University NHS Foundation Trust; Nottingham University Hospitals NHS Foundation Trust and Southend University Hospital NHS Foundation Trust.
The six radiologists, three UK trained and three overseas trained, were chosen through a competitive recruitment process.  During the 12-month fellowship, they will benefit from comprehensive specialist training in breast radiology, encompassing all aspects of symptomatic and screening breast imaging.
In addition, a multidisciplinary approach will provide the Fellows with fundamental experience in breast pathology, cancer genetics, epidemiology, service management, quality control, audit and evaluation. The programme also promotes the development of leaders, researchers and educators in breast radiology and will support Fellows aspiring to excel in these areas.
Claire Sutherland is one of the new Fellows and is based at Wythenshawe Hospital, part of Manchester University NHS Foundation Trust.  She commented: "The demands of UK Radiology specialty training have affected the quantity and quality of subspecialty breast training. With the increasing complexity of both radiological and surgical management of breast diseases, many senior trainees feel either ill-equipped and/or under confident to take up a Breast Radiology Consultant post immediately after CCT.
"The new NBIA fellowship scheme addresses these common issues by providing a dedicated one year Fellowship in a well-established, busy Breast Unit in the UK.  It is a fantastic opportunity for post-CCT Radiologists to immerse themselves in Breast Radiology without the pressures and disruption of a busy on-call commitment or general radiology service provision.  The structured and supportive environment is key to success with ample scope to tailor your training, according to specific needs and interests, whilst also developing a working network of national Fellows for future collaborations.  I am sure that by the end of my Fellowship year I will be a more confident and assured practitioner, and much better placed for independent Consultant practice."
Julia Whiteman, Health Education England Lead Dean for Clinical Radiology, added:  "Health Education England is pleased to be able to support the development of breast physician services. Providing career development opportunities for clinical radiologists to specialise in breast radiology through these fellowships is one part of HEE's strategy to enable improved access to high-quality clinical care in this area. We wish the six fellows every success as they embark on their programmes."
The next round of recruitment to the programme is now underway, and the posts will be advertised in March. Information for candidates and host breast units is available at https://nationalbreastimagingacademy.org/radiology/ or by contacting  breastacademy@mft.nhs.uk